This week we will focus on the practical parts of the business, just as important as the administrative ones, we have already dealt with sublimation in different media, today we will talk about customization to give excellent finishes to your "foil" work.
What is foil? refers to thin metal sheets, they can be made of different metallic materials such as gold, aluminum, among others. But in the case of customization, foils are sheets with metallic finishes, which after undergoing different processes, can offer a wide variety of finishes.
So after clarifying the concepts, today we will talk about the Silhouette Foil, of which there are two variables, one that is adhesive and the other that is printable. In the case of the printable, this consists of a sheet that is printed with a laser printer and allows you to create different designs with the background of a glossy sheet, and then proceed, if necessary, to cut according to the desired design.
Now, we will talk about the adhesive foil or cold foil, this, as its name says, has an adhesive side that allows it to be adhered to different surfaces (mainly non-porous flat materials). It comes in different colors:
How to use? for this material you need the Silhouette Curio, the embossing tool and a sheet of foil. It consists of placing the foil on the surface that we want to add the foil to and putting everything on the Curio mat, then we make our virtual design and place the configuration as if we were going to work on a relief, then we send. What the Curio will do with the relief tool is to pass several times over the same surface, making it stick to the areas indicated in the design and the rest can be removed.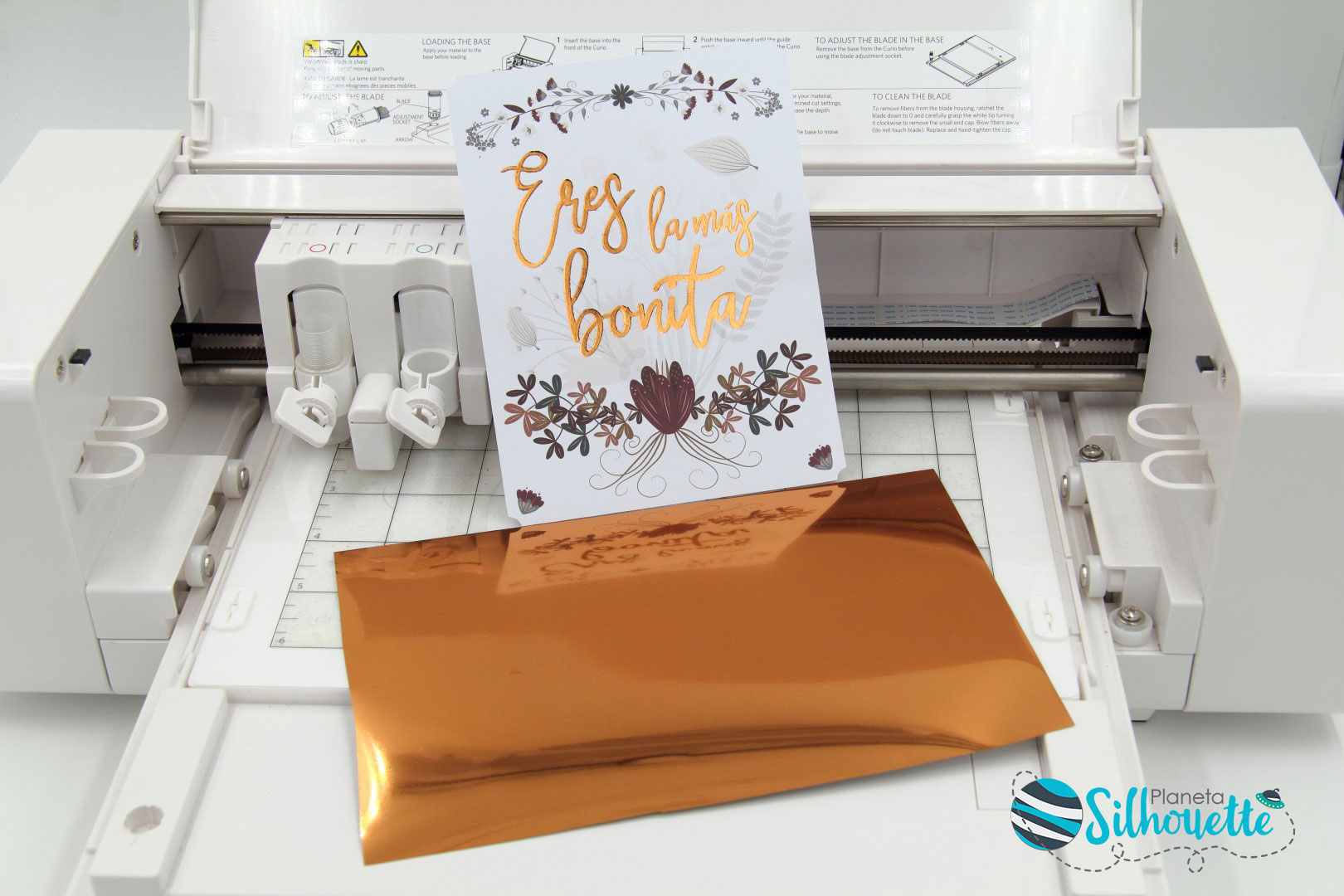 Image taken from Planet Silhouette blog
Here are the steps:
Preparation of the materials on the Curio mat, remember to first place your card or support material and then the piece of foil to be used, you must remove a protective layer that has the foil on the back.
2. Load the blade
3. Prepare the design in the Silhouette Studio, this step is divided into two:
The creation of the design, in the software:
Emboss menu, setting up the layout, putting the finishing touches on it:
4. Send the design and let the machine work:
5. Remove the excess
6. Enjoy the result
Note: several passes are always recommended to accentuate the entire design.
And one more detail, this material offers you these finishes on hard, non-porous surfaces, such as acrylic, glass, cardboard, paper, among others. Do not miss the opportunity to work on this material.